Untouched Beauty & Aquatic Adventures
One, a peaceful haven. The other, nature's playground. Feed your adventurous appetite with exhilarating watersports or simply let the day drift away with the sound of crashing waves.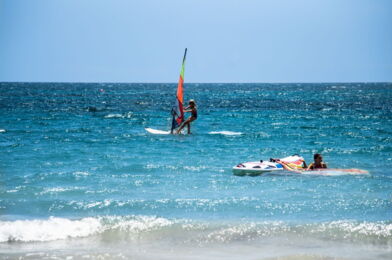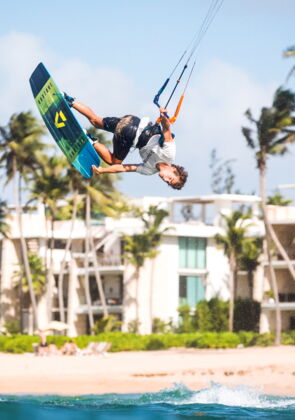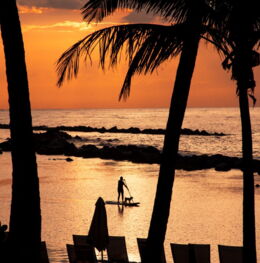 Exciting Ocean Adventures Await You at East Beach
Tucked away along this stretch of pristine natural wonders lies the largest and most deluxe collection of single-family beachfront homes: East Beach Residences. Down on the beach, Goodwinds Water Sports has one of the most extensive water sports programs for children and adults in the Caribbean, offering a wide selection of short courses, experiences, and instructional programs. Barlovento provides casual barefoot Caribbean eats and relaxation in between activities. Next door is the famous Jean-Michel Cousteau's Ambassadors of the Environment Kids program, providing innovative, hands-on eco-adventures for explorers of all ages, using the eco-friendly Dorado Beach Resort as a classroom to learn how to protect fragile coastal environments.
Relax with the Peaceful Ambience of West Beach
West Beach is a chain of golden sand crescents, protected by coral reefs that create tide pools for exploring, with peaceful lagoons for swimming and snorkeling. This is the remarkably lush beach that attracted Rockefeller to Dorado Beach. Steps away, a stunning selection of the ultra-luxe West Beach beachfront residences are tucked just below the shade of swaying palms.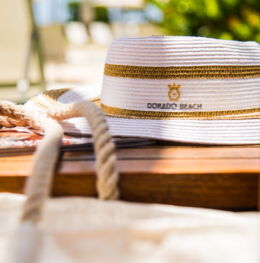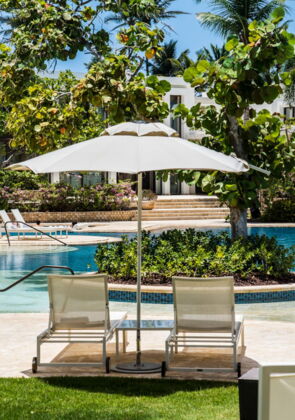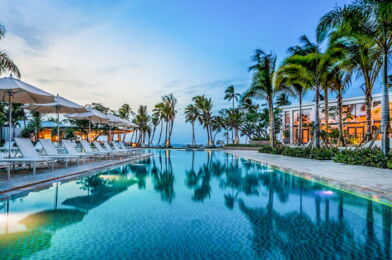 Lounge The Day Away at Encanto Beach Club
West Beach is home to Encanto Beach Club, a beach with a large ocean view pool and open-air beachfront dining. This beachside getaway features a large family pool with bubble beds, lap pool, and shady poolside cabanas. Steps from the beach, Encanto Bar & Grill serves freshly grilled fare in a contemporary setting where you can dine while sinking your toes into the sand. Adjacent to the pool, La Cocina is a gourmet market that offers sandwiches and treats for the beach. Interested in hosting your event here? These gorgeous beachside views are the perfect setting for a wedding or special celebration.